FOCUS ON SERVI DORYL'S LATEST INNOVATION : THE T5C PATTERN
Specialized in plastics applied to cheese technology since 1972, Servi Doryl designs, produces and markets worldwide, moulds, block-moulds, coagulation tanks, draining trays, and many other products for the production of all types of soft and pressed cheeses.
Servi Doryl is constantly innovating to offer its customers high quality moulds for their cheese production.
The latest Servi Doryl patented innovation : the T5C pattern, designed for pressed cheeses, and more specifically for Comté.
What is the T5C pattern ?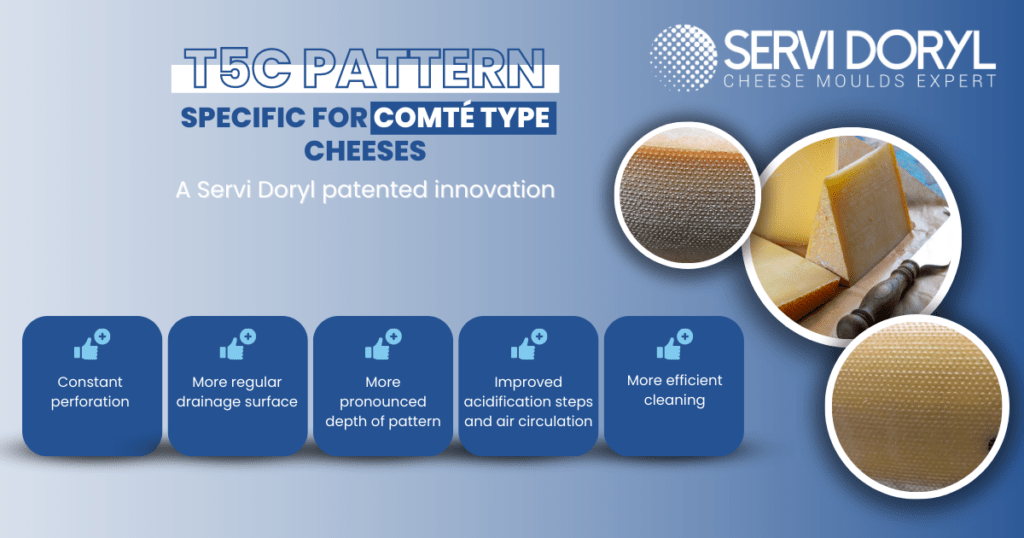 Servi Doryl's patented T5C technology is a new pattern designed specifically for Comtés.
✅ The perforation of the mould is constant, allowing for more regulaŕ filling during manufacturing.
✅ The T5C pattern promotes better drainage.
✅ Surface drainage is more regular during pressing the closure of the Comté rind is optimized.
✅ The pattern is better marked and regular on the lateral surface
and both sides of the cheese, giving the rind the characteristic Comté appearance.
✅ The T5C pattern also allows for the improvement of acidification steps
and air circulation on the boards during ripening.
✅ Finally, mould cleaning is more efficient with our new T5C pattern, to help our customers gain productivity.
What is special about the T5C pattern ?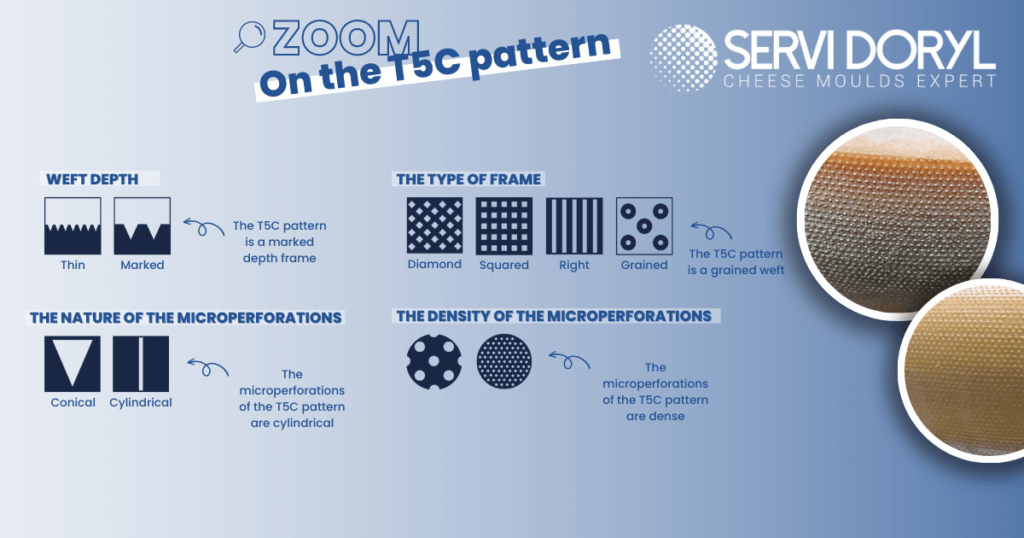 The T5C is a grained pattern of marked depth to give the Comté rind its emblematic design.
The micro-perforations of the pattern are cylindrical and dense, in order to optimize the drainage during the cheese pressing phase.

If you have a large project and you want to change your park with blue or bi-color moulds, do not hesitate to contact us by phone at +33 (0)2 47 96 11 50 or through our contact form.
For more details on our solutions, please contact us by phone at +33 (0)2 47 96 11 50 or by email : contact@servidoryl.com.
Our sales representatives will be delighted to advise you in the best possible way by proposing the best solutions adapted to your manufacturing processes and your technologies.